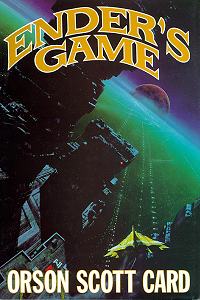 Reading
Ender's Game
this week already had me thinking deep thoughts about agency. There's a passage in there that says something to the effect of "people are free until humanity needs them."
Okay, I just had to look it up and get it right. From page 35:
"Human beings are free except when humanity needs them."
I was pretty close!
Well, that quote and the subsequent pages during which 6 to 10 year old Ender fights for the good of humanity with little choice in the matter got me to thinking a whole slew of rambling thoughts which I convinced myself had no place on digital paper.
And then I had the chance to attend the temple twice which incited my usual curious thought regarding Adam and Eve. It's a triviality which doesn't affect my faith or testimony and one which I assume I really won't
get
in this life, but which still rattles around in my brain from time to time.
I get why Adam fell. It's in the scriptures, and I'm pretty okay with the "that man might be" explanation. But the why behind Eve's fall has always kinda bugged me. And the resurfacing of that rattling question plus this week's rambling thoughts from
Ender's Game
just made for an odd combination which resulted in my inability to neglect said rambling thoughts.
So here they are, the inner workings of my brain which I truly have no desire to sort out (so while many and varied opinions are welcome, please resist the urge to offer finite solutions):
When it comes to the big, history-defining choices, were those people really
free
? I mean, take Joseph Smith for example. Could Heavenly Father afford to put someone in that position unless He
knew
, I mean really
knew
what choice he'd make? And if there's truly only one possible outcome, and Joseph was at that point a cog in the plan, is there really choice?
Maybe some of that choice happened before we got here? Maybe there were some things that Heavenly Father knew just
had
to be done, and maybe there was some huge sign-up sheet.
In the book, people were able to use Ender for good because of a specific set of personality traits. Is that how Heavenly Father is able to put certain people in the right place at the right time? And if so, how does that affect the concept of agency? I mean, yes, I know we always
can
choose, but I think we're all predisposed to make certain choices and when faced with certain situations we can be counted on to act pretty predictably.
Take my mom for example. She sees the world in straight up right or wrong, black or white. I think Heavenly Father can pretty much put her in any situation and know she's hardwired to pick "right." I think that makes her a pretty effective tool. Much better than I am, seeing all the shades of gray and being much more likely to choose a few degrees to the left.
So when He chooses her, and she chooses right, I think maybe the world becomes a little less random. Which leaves me to wonder how many, if any, strings He actively pulls. Does He put the Hitlers in place, or is that randomly generated by the aggregate poor choices of the world? Does He pave the way for the good? For the bad? Or are we a world left truly to our own agency?
Are some of us more free than others, with maybe a little more generalized plan for life on earth? Do some of us get the instructions, "be good... endure to the end" while others are sent here with a more specific agenda? Are human beings only free unless the Lord needs them?
I think maybe I'm thinking of "free" as something a little different than "free to choose." In every circumstance we get to choose our actions and reactions. But we don't get to choose the consequences, and maybe that's what makes the good people a little less free. Good people can see that good choices end in good results for themselves, for their families, for humanity, or maybe even for the broader purpose of God's plan. While a lesser person might have seen a difficult choice between persecution and peace, I think Joseph Smith saw the big picture. And knowing how great that big picture was, how could he
not
make the choices he made. Are good people, just because of their goodness, limited in their range of choices?
"Human beings are free except when humanity needs them."
Hmm.